Flambeau Received 2020 Quality Award from PACCAR
Flambeau, Inc. in Saltillo, Coahuila, Mexico Achieves 10 PPM Quality Award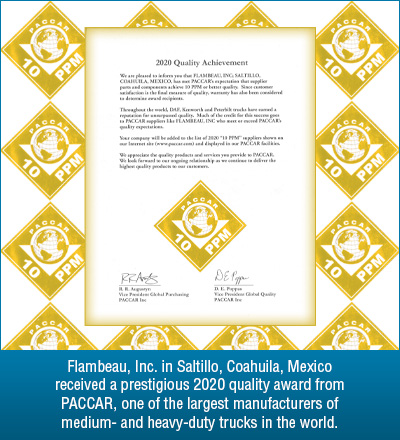 Saltilo, Coahuila, Mexico (April 6, 2021) – Flambeau, Inc. in Saltillo, Coahuila, Mexico received a prestigious 2020 quality award from PACCAR, one of the largest manufacturers of medium- and heavy-duty trucks in the world. Headquartered in Bellevue, Washington, PACCAR annually recognizes suppliers like Flambeau that exceed its "10 ppm" quality standard.
"To achieve 10 ppm status during such a challenging year is a remarkable achievement," said Debra Poppas, PACCAR vice president of global quality. "The performance of these suppliers speaks highly of the value of leveraging robust processes and a strong quality culture to perform at an elite level."
With the unconditional support and trust from its Baraboo, Wisconsin, headquarters, the Flambeau team in Saltillo met and exceeded the expectations of PACCAR and its other customers.
"We are honored to be recognized for a sixth straight year by our valued customer," said Dario Aranda, Plant Manager at Plasticos Flambeau.
"PACCAR relies on excellent suppliers to build industry-leading quality Kenworth, Peterbilt and DAF trucks," said Darrin Siver, PACCAR senior vice president. "We are proud to have such strong partners working with us and congratulate [Flambeau] for their outstanding performance."
Click Here to view the letter.
---
Flambeau, Inc., a Nordic Group company established in 1947, is a thermoplastics manufacturer headquartered in Baraboo, Wisconsin. Flambeau has experience supplying a wide array of blow-molded and injection-molded products and assemblies to OEM customers around the world. With certified facilities and sales offices throughout the United States, Mexico, United Kingdom, and in China, Flambeau serves many retail and commercial markets, including contract manufacturing for key sectors of the automotive, industrial, medical, fluids, and packaging industries. For further information on Flambeau's capabilities, please visit, please visit www.flambeau.com.